Familie fotografie. Ik ben familiefotograaf gevestigd in Maarssen, gespecialiseerd in documentaire familie fotografie, of te wel Day in the Life fotografie. En hoe leuk is het dan dat ik een Day in the Life sessie heb heerlijk in Maarssen zelf. Allemaal dankzij een crash cursus die ik volgde bij Documentary Family Photographers Worldwide: "Dead Funny". Humor en een gewone zondagochtend bij de familie Rijken. Meer weten? Lees en kijk mee!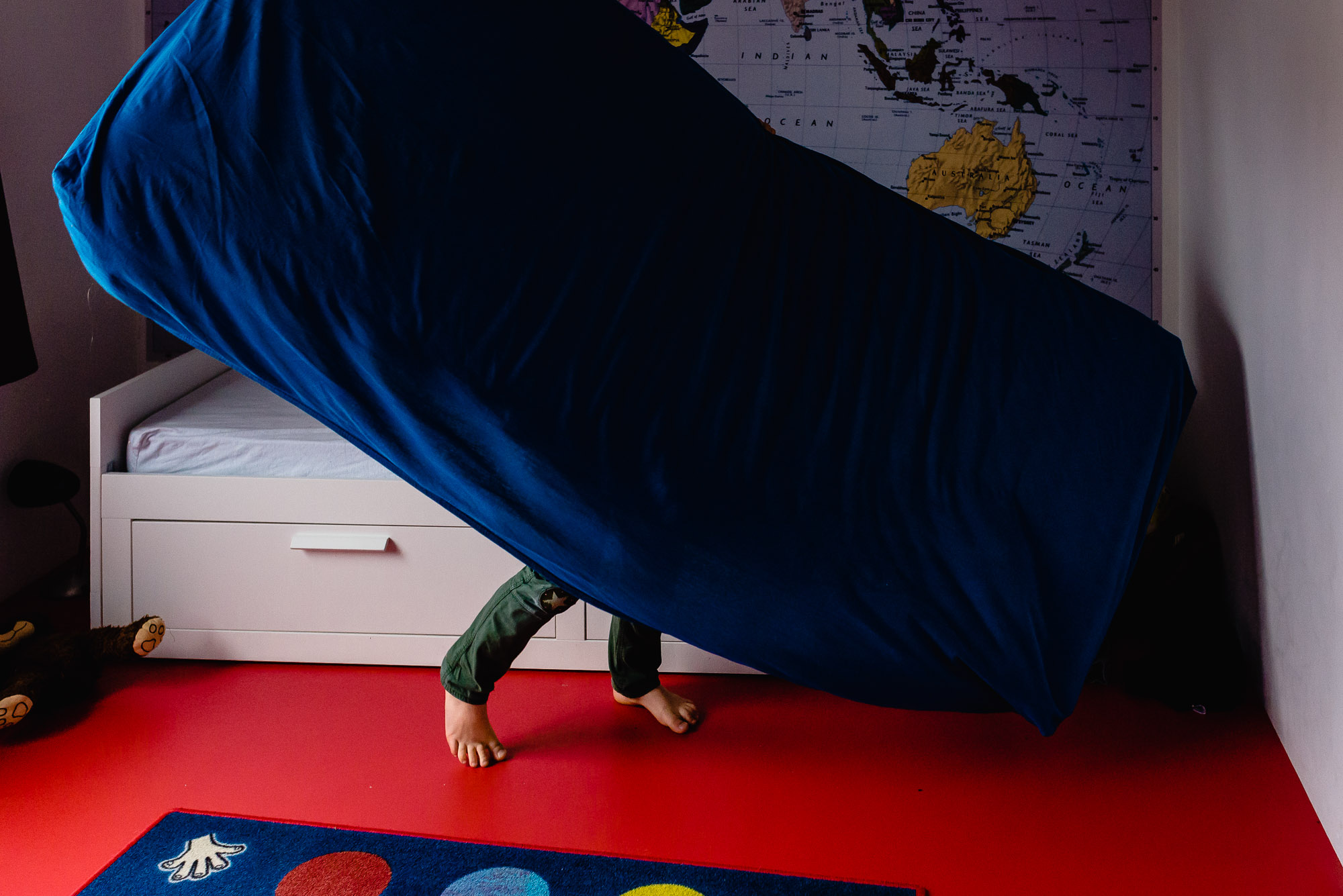 Documentary Family Photographers Worldwide & humor
Zoals jullie wellicht weten ben ik onderdeel van het team van Documentary Family Photographers Worldwide (DFP). Voordat ik dit was, hebben ze al eens een artikel van mij gepubliceerd over een Ochtend in the Life van een Opa en zijn twee kleinzoons. En af en toe worden er foto's van mij gekozen in hun blogs. Waarom vertel ik dit? Omdat DFP ook cursussen geeft, leuke cursussen, praktische cursussen en ook hele informatieve opleidingen. Een van de cursussen die ik gevolgd heb was10-daagse crashcursus – Dood grappig van Anna-Liisa Nixon with Minna Ridderstolpe. Ik wilde deze ook graag doen omdat de dames gewoonweg zo grappig zijn in hun begeleidende tekst van hun foto's. En ik het gevoel heb misschien wel te serieus of zakelijk, te matter of fact, te zijn in mijn uitlatingen denk ik, waardoor ik niet veel interactie heb. Alleen deze cursus ging echt over de foto's zelf.
Doel was om uit te zoeken waar onze grappige kant zit. Welke humor trekt ons aan en hoe kun je dat toepassen op je werk als documentair familiefotograaf. Waarom worden we eigenlijk aangetrokken door grappige beelden? Het antwoord is eigenlijk best simpel, namelijk omdat het goed voelt om te glimlachen en te lachen!
Wanneer wij als fotografen andere fotografen vragen om feedback over onze foto's horen wij vaak over het belang van goede beelden die een reactie of emotie bij de kijker oproepen. En lachen voelt immers goed 🙂 . Humor helpt om verbindingen te leggen. Alleen op welk niveau dat wordt gedaan en welke impact het heeft is ook vaak afhankelijk van de humor van de persoon die de foto maakt, als ook de persoon die naar de foto kijkt.
Wat voor humor heb ik dan? Heb ik het eigenlijk wel? In een groep vind ik het lastiger om 'grappig' te zijn dan wanneer ik een op een met iemand ben. Maar als ik goed in mijn vel zit, dan merk ik wel dat ik de lachers op mijn hand heb. Mijn gevoel voor humor is dan wel vaak vol met zelfspot, ironisch en sarcastisch. Hele subtiele humor. Observatieve humor (het vermogen om gekkigheid te maken van het dagelijks leven).
Minna ken ik van de Retreat die ik vorig jaar heb gedaan in Duitsland met Kristen Lewis en Jenna Shouldice. Zij schreef mij dit, toen ik mij voorstelde in de groep van de cursus en daarin schreef and … "I don't have humor
 " :
Hahahahah – I was drawn to you like a magnet because of your laugh and your positive spirit!!! Lets do this!
Waar zit jouw gevoel voor humor? En wat zie je in mijn foto's terugkomen? Ik ben heel benieuwd en zou het leuk vinden om terug te lezen in de reacties onderaan dit blog.
Terug naar de familie Rijken
Voor de cursus wilde ik dus heel graag wat ik geleerd had in de praktijk brengen. Ik heb de familie Rijken uitgekozen omdat ze drie kinderen hebben en alledrie hebben ze iets unieks. Mels hun oudste zit bij Tom in het hockeyteam en ik zie dan altijd hun jongste zoontje, Mik, rondlopen of liggen. Dat jochie heeft de meest uiteenlopende expressies, en doet af en toe dingen …
Dus bij hen ben ik geweest. Hieronder een paar foto's die ik uiteindelijk heb gekozen om te laten zien bij de cursus "Dead Funny", en de video van hun ochtend.
Humor and a normal Sunday morning | family photography Maarssen
Family photography. I am a family photographer based in Maarssen (Utrecht – the Netherlands), specialized in documentary family photography, or Day in the Life photography. And how much fun it is that I have a Day in the Life session in Maarssen itself. All thanks to a crash course that I followed at Documentary Family Photographers Worldwide: "Dead Funny". Humor and a normal Sunday morning with the Rijken family. Want to know more? Read and watch.
Documentary Family Photographers Worldwide & humor
As you may know, I am part of the Documentary Family Photographers Worldwide (DFP) team. Before I was this, they had already published an article of mine about the Morning in the Life of a Grandpa and his two grandsons. And occasionally photos of me are chosen in their blogs. Why am I telling you this? Because DFP also offers courses, fun courses, practical courses and also very informative courses. One of the courses I followed was 10-day crash course – Dead funny of Anna-Liisa Nixon with Minna Ridderstolpe. I also wanted to do this because the ladies are just as funny in their accompanying text by their photos. And I feel that I may be too serious or businesslike, too matter-of-fact, or factual in my statements, which is why I think I don't have as much interaction as I would like. Only this course was really about the photos themselves.
The aim was to find out where our funny side is. What humor attracts us and how can you apply that to your work as a documentary family photographer. Why are we attracted by funny images? The answer is actually quite simple, namely because it feels good to smile and laugh!
When photographers ask other photographers for feedback about our photos, we often hear about the importance of good images that evoke a reaction or emotion from the viewer. Humor helps to make connections. After all, laughing feels good :). Only at what level is this done and what impact does it have, as it is often dependent on the humor of the person who takes the photo, as well as the person who looks at the photo.
What kind of humor do I have? Do I actually have it? In a group I find it more difficult to be 'funny' than when I am one on one with someone. But if I am comfortable with myself, then I notice that I have the laughs on my hand. My sense of humor is often self-deprecating, ironic and sarcastic. Very subtle humor. Observational humor (the ability to make a poke at daily life).
I know Minna from the Retreat I did last year in Germany with Kristen Lewis and Jenna Shouldice. She wrote this to me when I introduced myself in the group of the course and wrote … "I don't have humor
 " :
Hahahahah – I was drawn to you like a magnet because of your laugh and your positive spirit!!! Lets do this!
Where is your sense of humor? And what do you see in my photos? I am very curious and would love to read what you have to say in the comments at the bottom of this blog.
Back to the Rijken family
So I really wanted to put into practice what I had learned for the course. I chose the family Rijken because they have three children and all three have something unique. Mels, their eldest, plays fieldhochey with Tom and I always see their youngest son, Mik, walking around or lying down. That boy has the most diverse expressions, and occasionally does things …
So I've been with them. Above are a few photos that I finally chose to show at the course "Dead Funny", and the video of their morning. Enjoy!