"Unique, special photos of an everyday day. Unique, special photos of our family. We are all on them as we are. No frills, no poses. Just that normal Thursday, which is so special.

In the most impossible positions, you have made very valuable photographs. You made beautiful memories for us to cherish and enjoy. To look back on with a big smile. We are grateful for your presence on this special ordinary Thursday, and all the love that you put into your photos!"

– Linda
This quote sums up perfectly what I love about documentary family photography and why you will want to have these photos of your own family! Because even though when most of us think of family photography it's the 'posed in the park' family portraits (and there is always a place for those), I feel in my heart that those photographs won't come close to showing what 'your life means to you'. And documentary family photos can do that, I promise!
It was hard to choose between all my photos of 2019, some of which I haven't seen yet (personal); I have many photos that make me feel something. So I decided I wouldn't start choosing between which is my most favorite because then this blogpost wouldn't see the light of day, but share 10 which speak to me and why. Enjoy the perfectly imperfect!
My 10-ish favorites as a documentary family photographer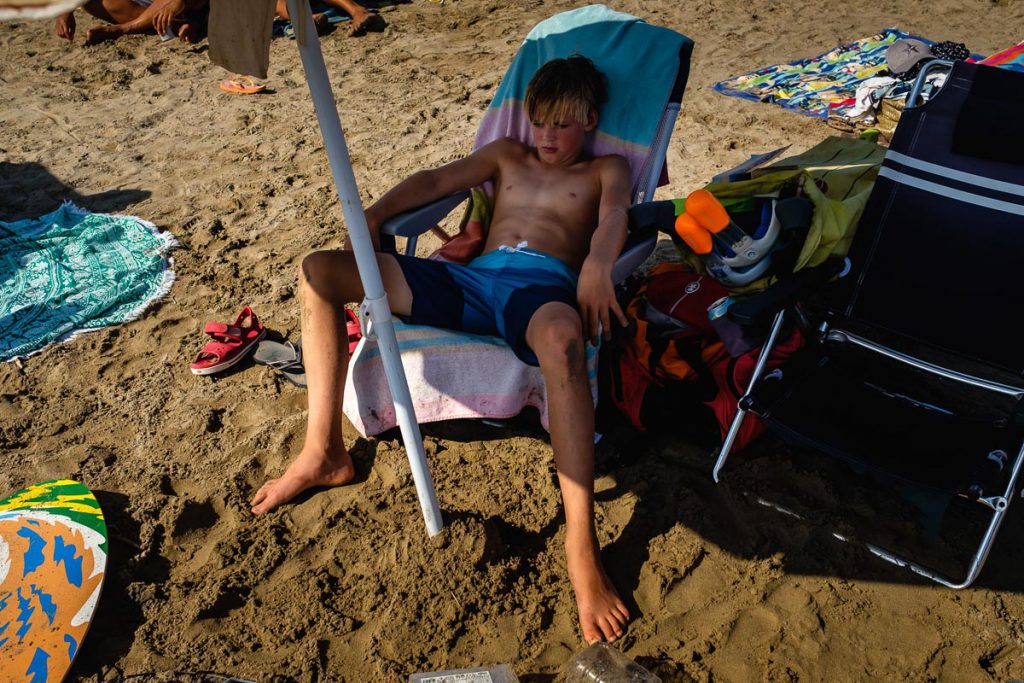 The 'magic' of turning into a teenager. My boy always the one running, jumping, moving, talking … he is getting so big. Facebook gives me reminders now and then and the last few weeks there have been quite a few of him being small and cute. He is still very cute, but the path into adolescence has started. This photograph I made this summer is one I just love. It also reminds me a bit of when I was young. You come into an age where you don't play as much with the sand, shovels and buckets and you start getting bored, right?! This is one of things I want to remember and I want Tom to remember when he is older.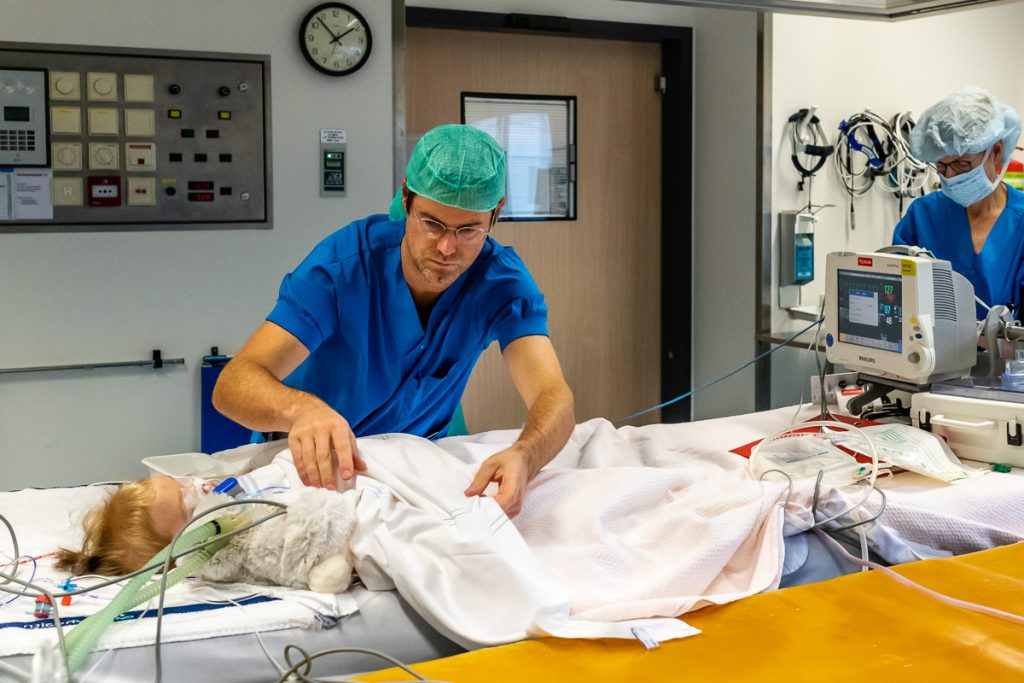 I have made some great, truly memorable and heartfelt images during my #projecthartekind. This image is from one of the most incredibly interesting experiences of 2019 I've had. It is in the aftermath of a long open-heart surgery. The pediatric heart surgeon wanted to make sure everything looked right. He told me afterwards that "we see to each detail during this heart surgery. When the child goes to the NICU and leaves the operating room, it is possible that his / her parents are there in one of the corridors. Everything must look good and well-kept." I made this photo because I was touched by this simpel gesture which shows so much of his sincerity, care, love and professionalism, and which says so much about his character as a doctor and as a man.
This is also a reality of life for a great number of family's out there. And I would be grateful for the opportunity to tell visual stories of life with medically complex kids, either for the family's or for the medical professionals.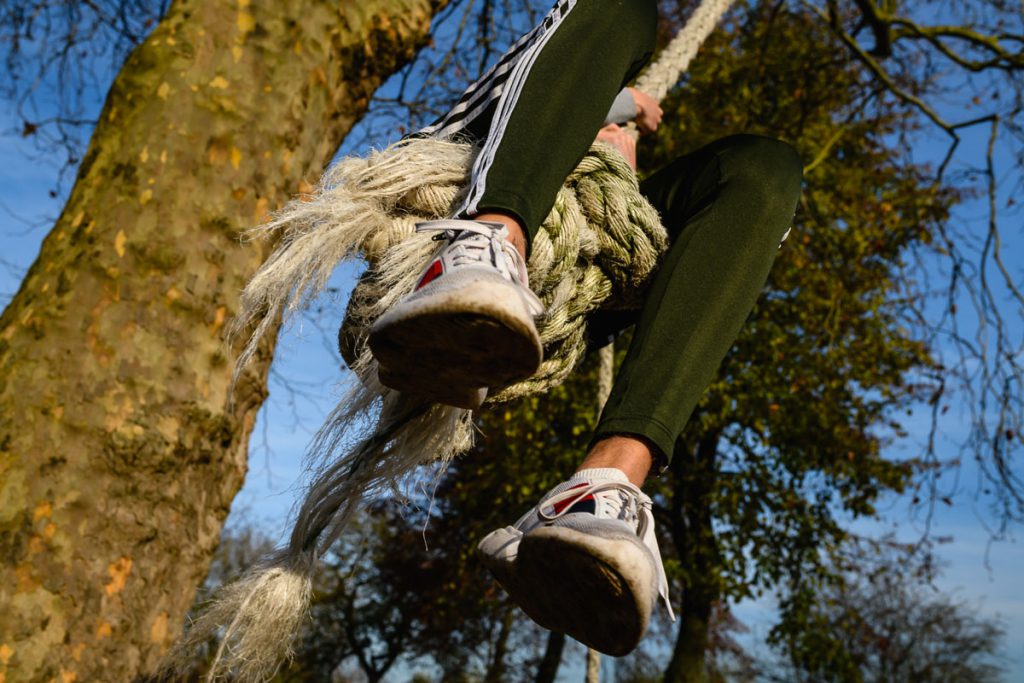 I was really happy when Daphne called me and told me her kids wanted me to photograph them again! Can you imagine your teenage kids asking you for a Day in the Life because it was a few years ago and they have changed?! I thought that was so awesome. I just love this family. This photograph is taken during a walk with the dog. There were all these ropes hanging from the trees there and the children jumped on them, pushed each other and had so much fun together. iPhones were forgotten for awhile and good old family bonding happened. I was real close to the ropes trying to get all of the kids in the frame while they were doing this. I made these pictures of them because I want them to have visual reminders of what their relationship is like. And I nearly got kicked a couple of times 😉 but it was worth getting these two tall legs in the frame. A detail of growing up.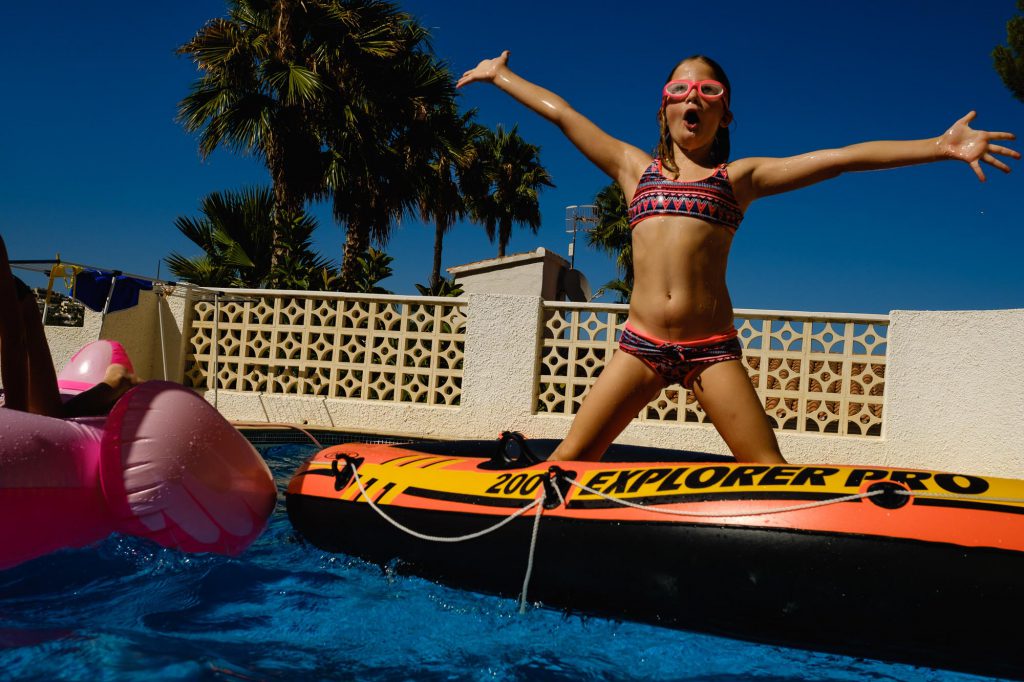 During the summer holidays friend of ours had rented a vacation house in a village nearby. We spent two lovely days there, barbecuing and swimming in their pool. I love swimming and it always makes me happy when I see kids and parents having so much fun together doing this. My kids went bananas and they spent hours in that pool.
I want to remember Marie (and one of her beautiful characteristics) like this, and I want Marie to remember this when she grows up. There have been tough times the years prior because of her anger and inability to really express what she felt or perhaps wanted to say. So in 2019 we had a little help with that which turned out it be a blessing for her and for us. This is absolutely Marie when she feels in her element, likes where she is and is completely at ease. I am so happy to see her spirit coming out of her more and more this last half year.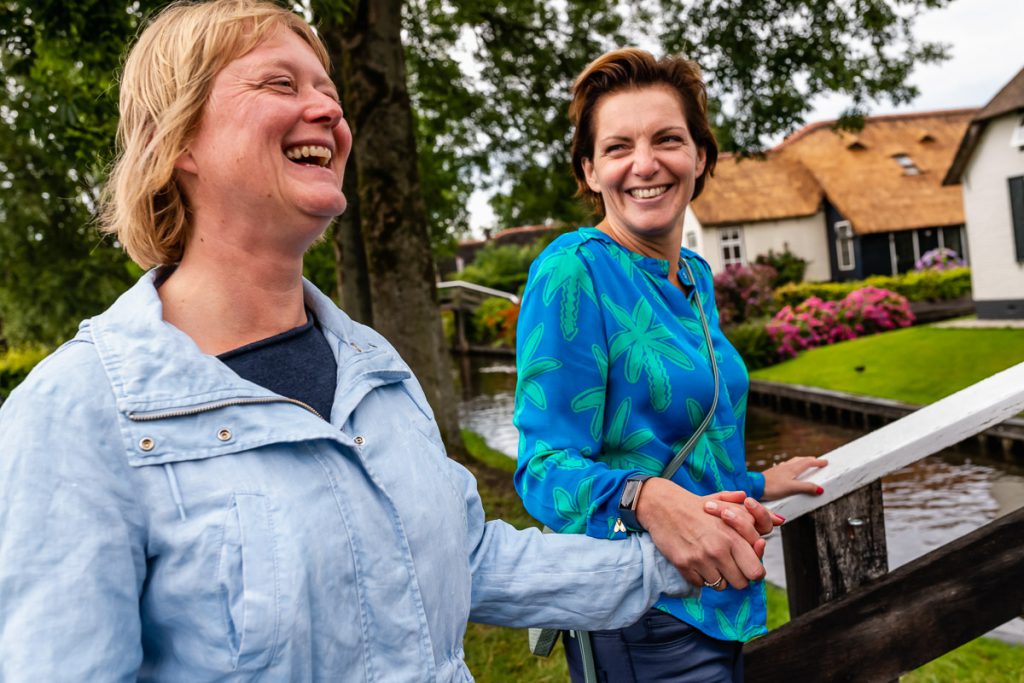 One of the Day in the Life sessions I treasure was one with Hanneke and her family in Giethoorn, the Netherlands. They were all there to celebrate her father's birthday. It was such a dreary, gray, wet day which was mostly spent indoors. The quaint typical Giethoorn house they rented was not so big, had dark wood inside and all sorts of -artificial- light. This was challenging for me, but I love the photos I made for this family.
Hanneke's sister-in-law has a condition where her eye-sight is nearly gone. She told me right when we met, she really didn't want to be taken pictures of because she felt she would be 'ugly' in them. I told her not to worry and focus on me, but to enjoy the time with her family. This is one of the last photos of the session and I just love the lovingly beautiful interaction between Hanneke and her sister-in-law. And I hope her family can convey her beauty, and the feeling and sentiment of that moment to her. And Hanneke's brother will have some beautiful visual reminders of her, because when she smiled she just radiated the room.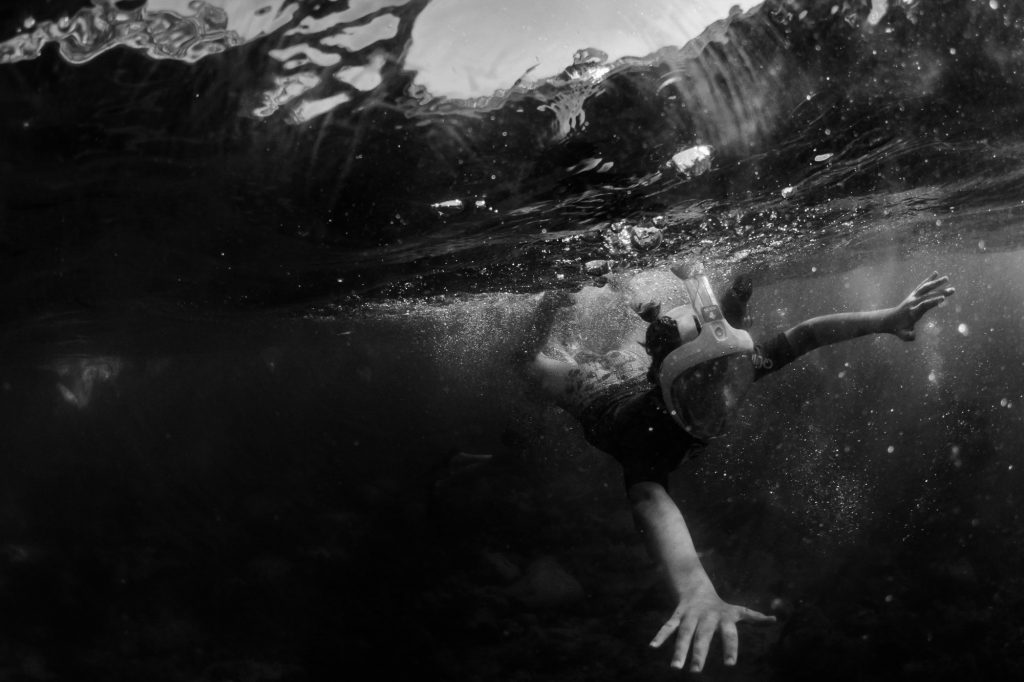 I like challenging myself and this year I have been using underwater gear, underwater camera's and a GoPro when we are in a swimming pool (if allowed) or swimming in the ocean. Also for some of my sessions I have used it and gotten some really neat results. One goal for 2020 is to master this more and master the processing of underwater images. I want to be able to photograph underwater and in the water because I love swimming and what it makes me feel. I want to be able to photograph it and hopefully convey what it feels like, the freedom, the peacefulness, the fun … And I feel that with this image I did just that.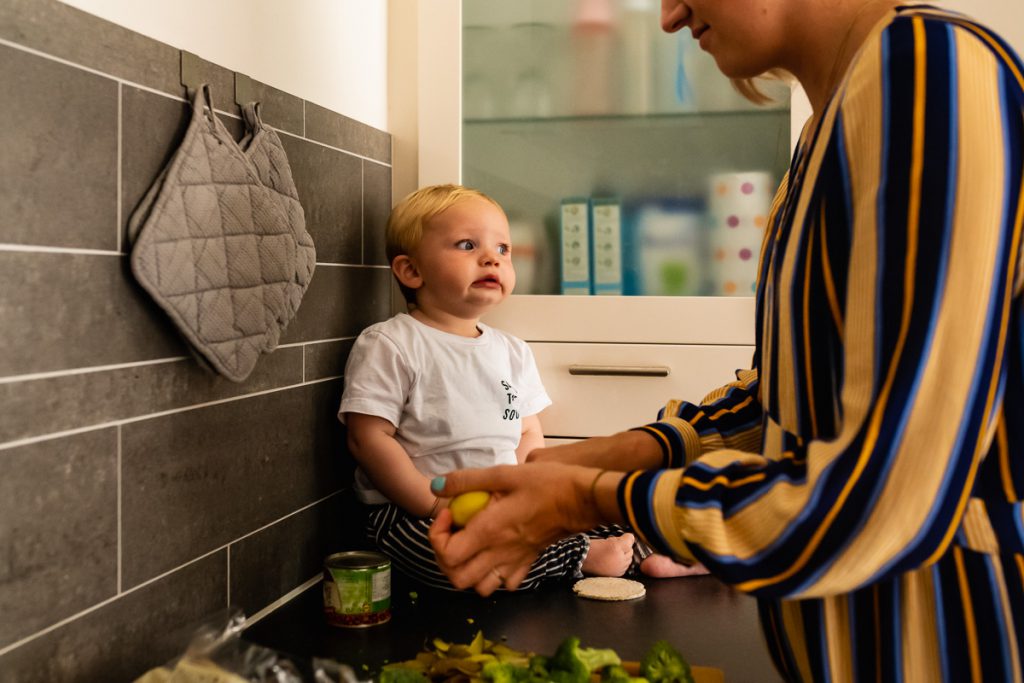 During the Day in the Life of influencer Natalie Vijfhuizen and her familie there were of course meal times. This is her making dinner for the kids. They are always nearby or 'helping' her. I remember quite clearly my little Tom in his Bumba chair thing on the counter always trying to 'help'. This little one was being a tiny bit naughty trying to grab the food she wanted to slice up for dinner. I just wanted to photograph this so she sees and feels how good she, as young as she is, handels herself as a parent. The faces this little boy can magically conjure up, just so funny!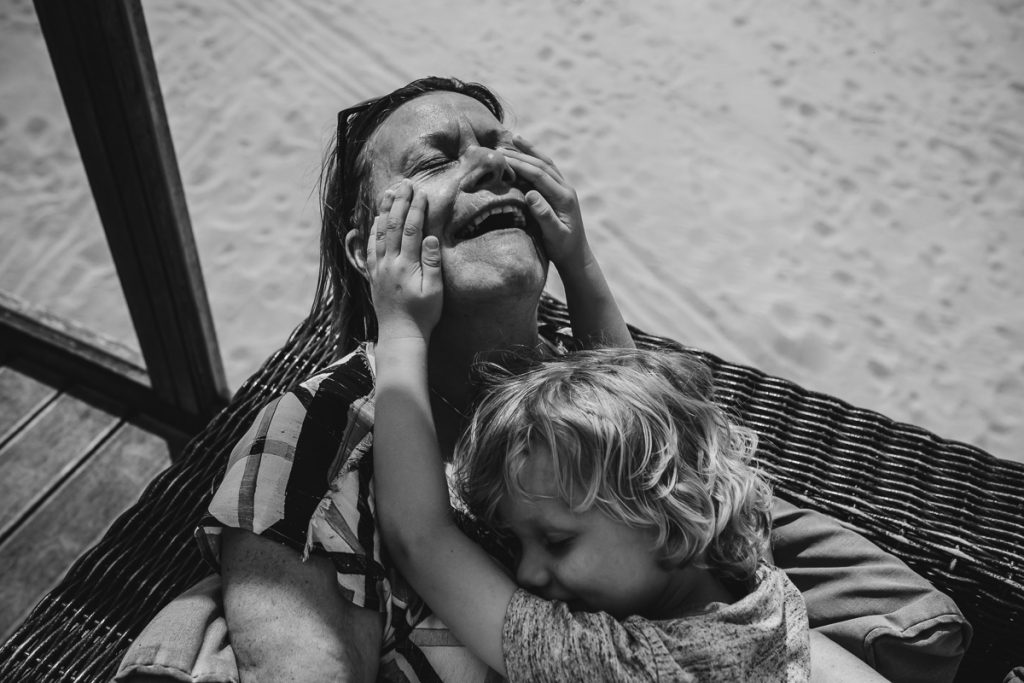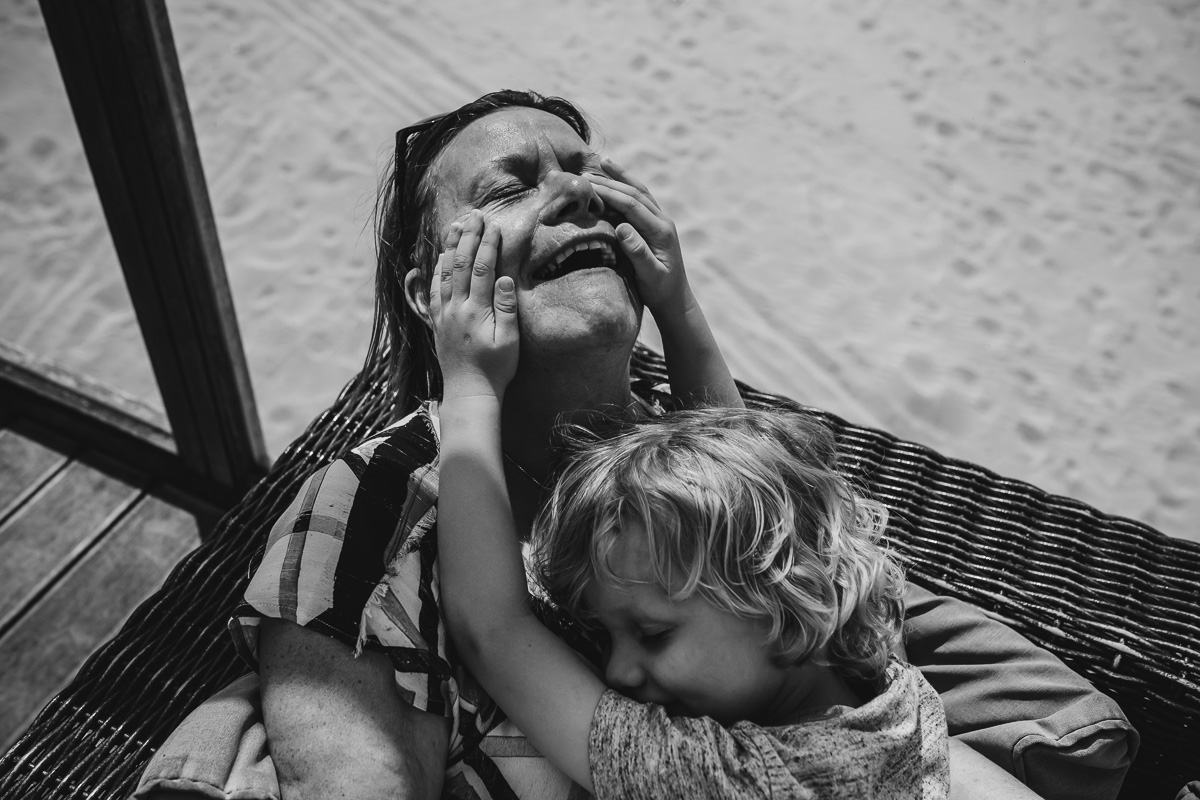 I have had a couple of family anniversaries or grandparents birthdays Day in the Life this year. This one is in Texel, on one of the Dutch Islands. We cycled from their house to the beach – yeah me too with two camera's hanging and making photos while I was riding the bike. Of course I paid attention to the road and other cyclists. Their blog is going to appear -magically- this year – hopefully 😉 . I enjoy watching the love, playfulness, interaction and connection between family members. I especially have a soft spot for grandparents with their grandkids, and I like photographing these precious moments they have. Often times it makes me yearn for my Oma.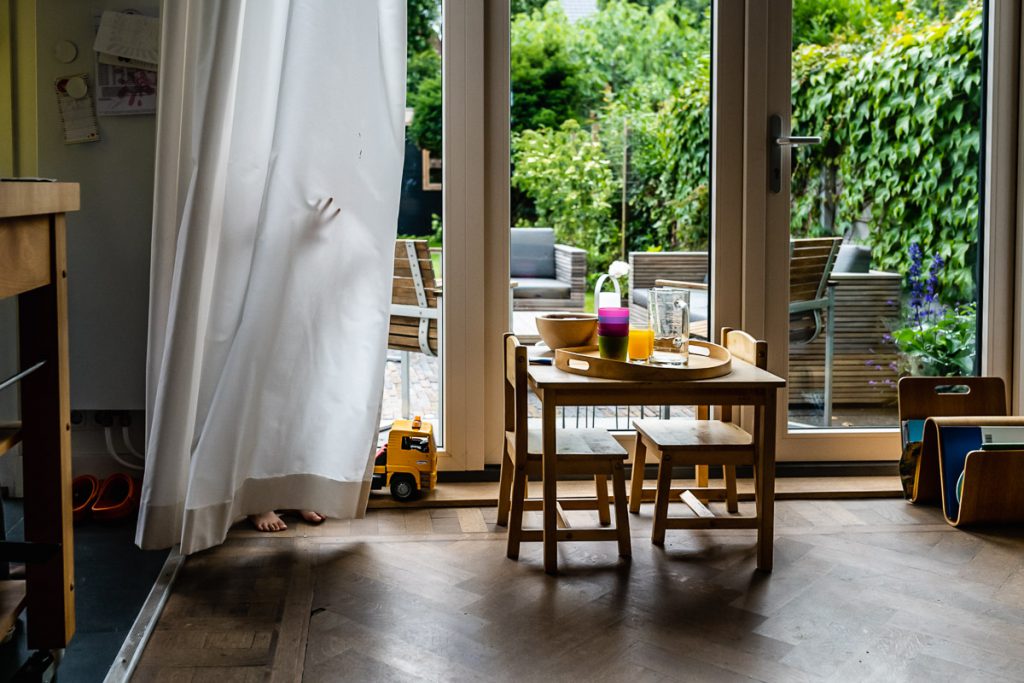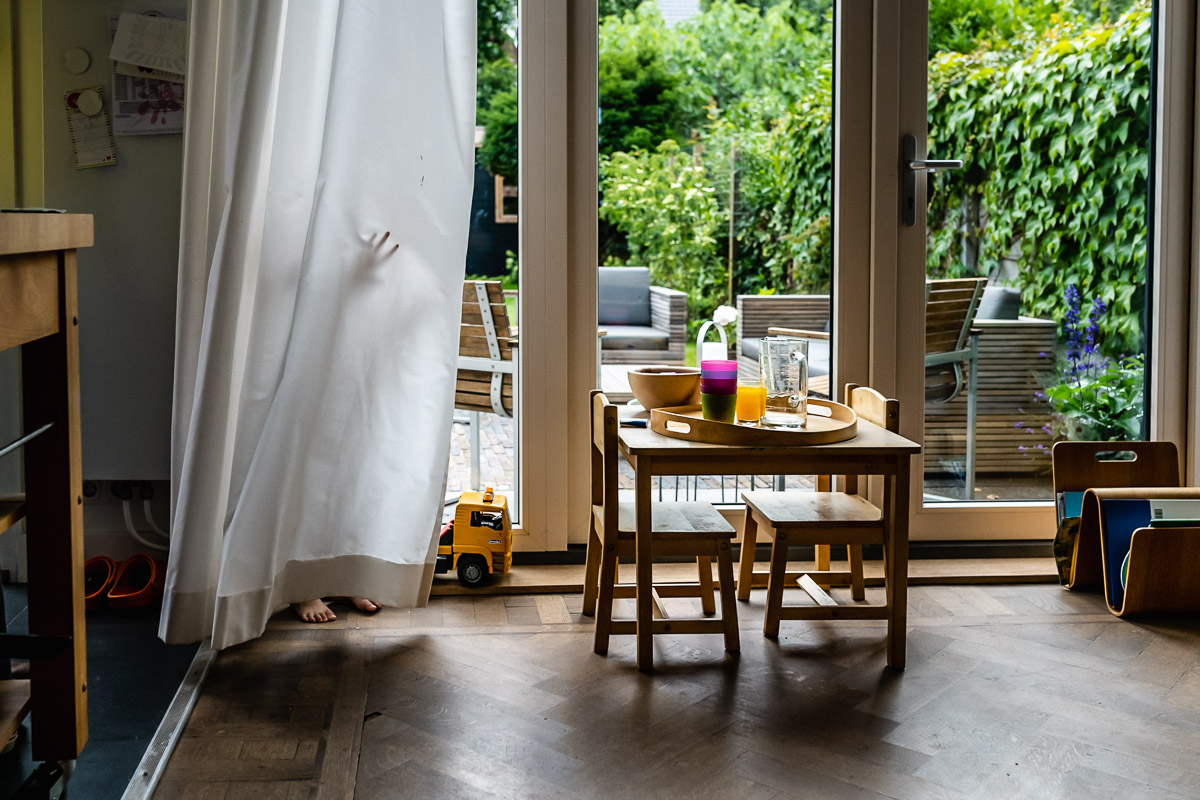 During one of my Day in the Life's this year I came across one little boy who, it seemed at times, really didn't want me around. I never ever have problem with kids but this little fellow was tenacious but so cute and also a bit naughty. I just adored his little feisty spirit. I saw him grap his dad's telephone and hide it, and then quickly he hid himself behind this curtain chanting "dad, telephone? … dad, telephone? …" I just loved this moment, where there is a child but there isn't, right? The parents loved this photograph because it is "so him!".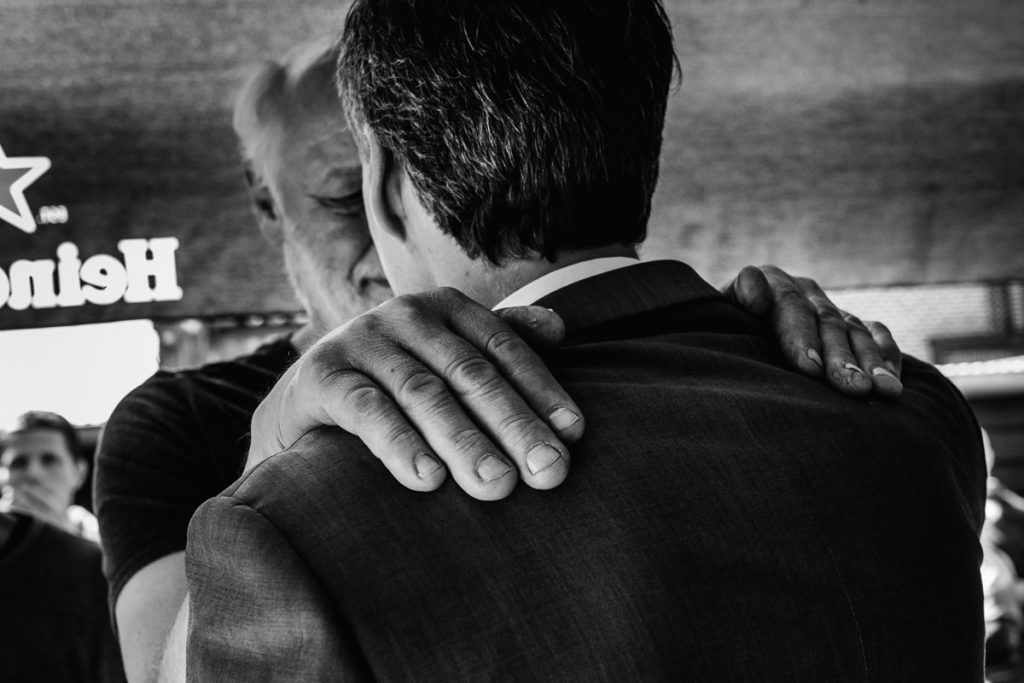 Because of what happened years ago I never really thought of wanting or being able to photograph funerals. But this year I was asked to photograph one of a family I had done a really fun and beautiful Day in the Life with in 2018. His brother had passed away and he really wanted me to take pictures at his brothers funeral. Because I know the family well and hold them near my heart I said yes. I made some beautiful meaningful images during this beautiful sunny day. But I didn't want to ask the family if I could share them, but this one being a detail I can. When I saw this big man hugging, comforting him and having his hands on his shoulders I knew I needed to take a photo of this. Of those strong, enormous, caring hands. That's it. I just had to.
During the day I also kept having the feeling "I wish I could have made photos of this family with their brother, with their son, when he was still alive", but I am grateful that he had so much faith in me to ask me to capture this funeral.
This year I also photographed events, because besides documentary family photography, I love photographing events! And one of my favorites is the one of the European Women's Payment Network (EWPN), were I love feeling the warmth, enthusiasm and support of all these women and their male allies, and listening – must be my 17 years of corporate experience. They make me feel part of their tribe, and I am proud of that and hope to be a part of it for a long time.
"Sandra is a project and event photographer who combines her industry insight with her creativity and technical skills as a photographer. She know which moments to pick as well from a emotional stylish perspective, as well as journalistic and content driven. An amazingly agile professional who truly wraps herself around het assignment and delivers with art and precision. Her quick reviews of events truly capture content and ambiance. Chapeau and highly recommended."

– Conny Dorrestijn
The family field hockey tournament of our field hockey club is one colorful and fun event to photograph. There are so many great opportunities to capture great moments. I love just being there and taking everything and everyone in. I always have a hard time deciding if I should post the blog about this event here on my documentary family website, because it is a family tournament, or on my business website dedicated to events, because it is an event. I choose to do the latter. But I love this photograph. The whole field is filled with families doing all kinds of exercises, warming up for the tournament, and they just put down there chairs and chill …
And one of my favorite pleasant surprises of this year was former golden field hockey coach Marc Lammers! How Marc Lammers compares business and top sport is fantastic, full of energy and humor!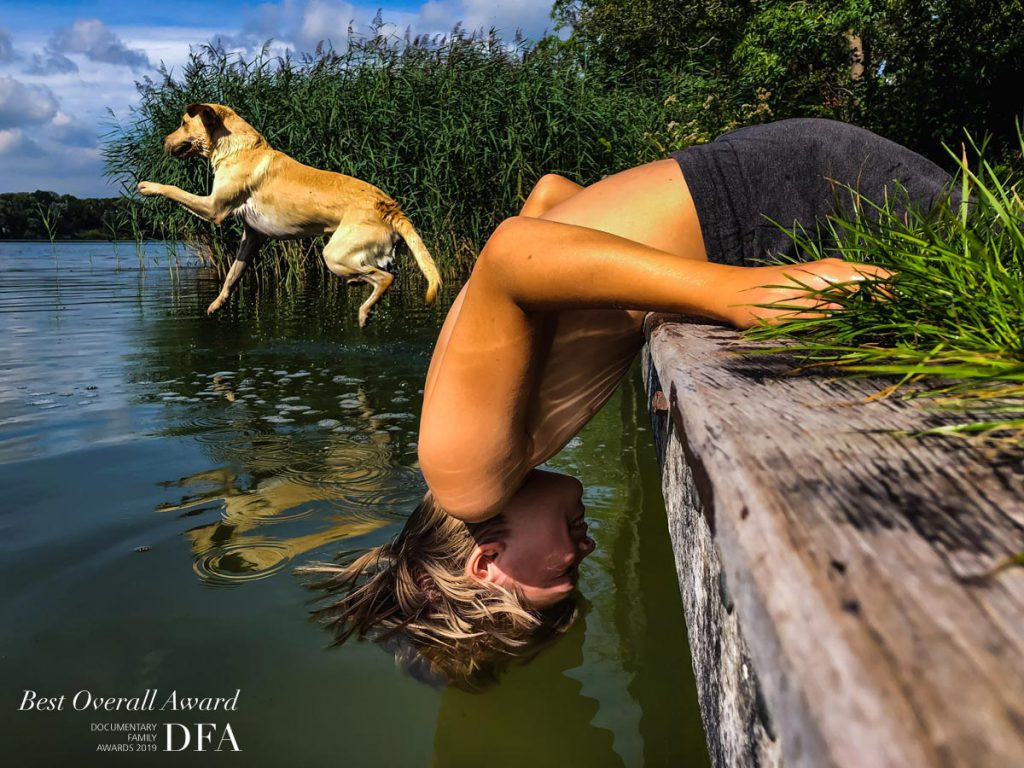 This year I also won a couple of awards I am really proud of. This one won in the last DFA's! Whenever Marie and I walk the dog in this area (Kleine Plas, Maarssen, the Netherlands) she gets wet, with no regard of the weather or what she is wearing, she doesn't care. I love that about her. I had also seen her do this a couple of times already. On this day, the sun was out, lovely blue sky, but cold, she did it again …! I took out my iPhone, got my composition right and waited until the dog was going to jump. I love the paradox between Marie just laying there with her hair and face in the water and the jumpiness / activity of the dog.
I want to thank all my family's and clients who supported me and my documentary family photography throughout 2019 and trusted me to tell their stories from the heart – wishing you an amazing 2020!!